OGM to RM by No OnE
This here little guide helps you convert an OGM to the RM format. The tools needed are:
Decompress.exe (it comes with a program called Avi2Vcd)
Helix Producer Plus (either buy or get off kazaa or whatever)
RealOne Player (DA!! TO PLAY IT)
Xvid Codec Koepi's Build (must be Koepi's)
Converting the Ogm to Avi
Okay, first, rename your ogm to .avi. Then, open up Decompress.exe that came with avi2cd and load MyOgm.avi.


Now, hit the decompress button and wait a couple minutes or so. Now, you should have a MyOgm_pcm.avi in the folder that the ogm is in.
Making the Avi more compatible

Go to the folder that you installed the XviD codec in. There should be a program called AviC.exe. Open that and load MyOgm_pcm.avi. It should look like this.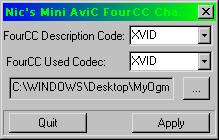 Now, in the 2 little bar things that say xvid in them, click on them each and change them both to divx, so it should look like this.
Click "Apply". Now, everything will think it is an easier to use DivX file.
Making the RM file
Finally, lets make that RM file. Open up Helix Producer Plus. Load MyOgm_pcm.avi. It'll look like this.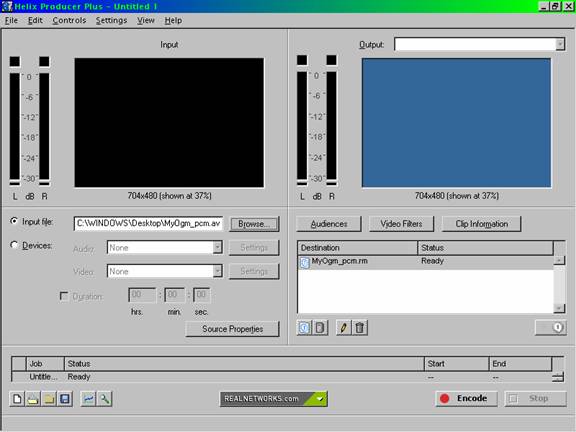 If you don't have a destination added, click on this button and add one.
Now, click on the big "Audiences" button above the destination. You'll get a screen like this.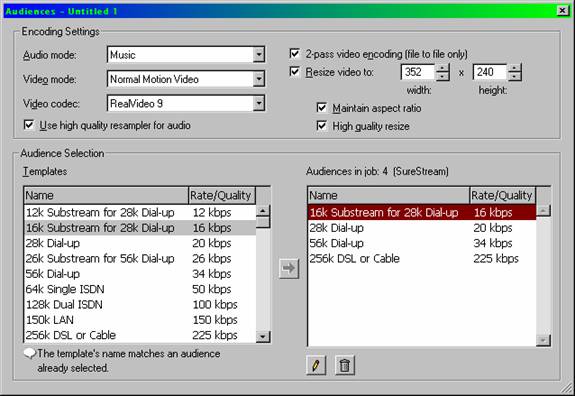 Now, unless you know what you're doing, delete these things until the "256K DSL or Cable" option is still on there. We'll use this audience for this conversion. Near the top of the picture, it says audio mode. Change where it says "Music" to "Voice", because the voice has a REALLY good sound. I highly recommend you resize the video to about 320x240, or a size close to that with the same aspect ratio, or the video will look like crap. Click the little X in the corner now to close the window.
Hitting the Encode button
Now, we are ready to convert (feel free to mess with other options as well if you think you're good enough). In the lower-right corner, there is a big button with a huge red dot and it says "Encode". If it is disabled, something is messed up beyond my knowledge, and you're on your own to figure it out. Click on that and it will start to write the file.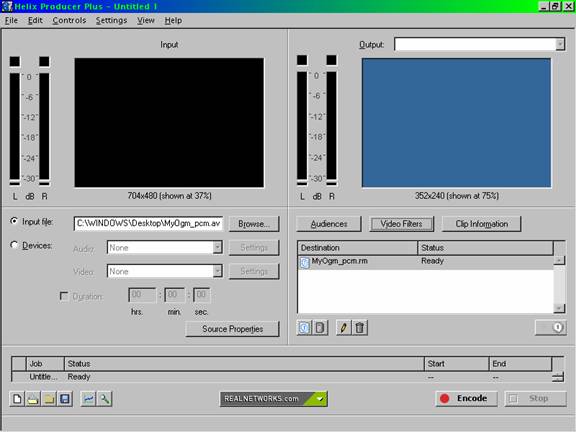 Depending on how long the movie is and how fast your computer is, it may take a long time to do this, but the quality will be much better than most of those 14.4K streaming clips you see on the internet. Enjoy.